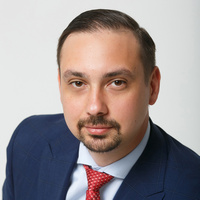 Maslov Aleksandr
"Voynov, Maslov and partners" Law Firm
Tel: +79107947026
Address: 603000, Nizhny Novgorod, per. Kholodny, 10a, office 4.1.
General information
English
- sufficiently fluent in order to handle proceedings and render an award
Career
"Voynov, Maslov and partners" Law Firm
, Nizhny Novgorod
managing partner
Law center "Praktika"
, Nizhny Novgorod
lawyer
Experience as arbitrator
Served as arbitrator in 4-7 cases in domestic arbitrations
ICAC Rules
Arbitration Rules of Self-Governing Organization "Association of Builders of Volgo-Vyatskiy Region"
Examples of cases
My specialization are disputes in construction and real estate. I started my initial activity as an arbitrator with the Self-Governing Organization of builders, considered cases from construction contracts - on the recovery of an unprocessed advance, debt for work performed. Place of arbitration - Nizhny Novgorod, disputes over the volume, cost and quality of work performed between general contractors and subcontractors. In one case in the Moscow CCI (the seat of arbitration is Moscow, participated as an invited arbitrator, arbitration rules of the CCI, which were similar to the rules of the ICAC, co-arbitrators were of the ICAC at the CCI list), the case ended with the conclusion of a settlement agreement, which was formalized as an arbitration award. Another dispute was between the general contractor and the subcontractor. All disputes were considered under Russian law, amounts in dispute were less than 1 million US dollars.
Experience as counsel
Acted as counsel for 5-10 years in domestic arbitrations
Arbitration court "Independent arbitration chamber"
Examples of cases
- Represented the borrower in a dispute with Sberbank of Russia on debt collection and foreclosure. - Participated in proceedings of enforcement of arbitral awards in the courts of the Russian Federation.
quantum (damages) experts
General arbitration experience
сonstruction arbitrations
commercial arbitration
Has been involved in dispute resolution as counsel
Has been involved in mediation as mediator
Arbitration Centre at RSPP
Education, qualifications, awards
Moscow school of management SKOLKOVO, Master in Public Strategy, 2019, Social transformation
Lobachevsky State University of Nizhny Novgorod, specialist, 2005, Law faculty
Master in Public strategy
Pravo-300: Land law, commercial real estate, construction – 2nd tier
Preferences as an arbitrator
Maximum deference to the right to present the party's case
Rigorous control of the process by the tribunal
Only if it is a legal issue the arbitrators may wish to have submissions on
Arbitrators should encourage parties to settle the dispute including by making inquiries and/or steps such as encouraging participation of in-house counsel or management in hearings
Personal preferences