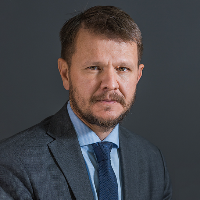 Dudko Alexei Georgievich
Hogan Lovells (CIS)
Tel: +7 (495) 933 3015 x 3015
Address: Summit Business Centre 22 Tverskaya Street, 9th Floor Moscow 125009 Russia
General information
German
- can read documents without translation
Career
Hogan Lovells (CIS)
, Moscow
Partner, Head of Litigation, Arbitration and Investigations of the Russia/CIS Practice
Associate, Senior Counsel, Head of Dispute Resolution Practice
Experience as arbitrator
Served as arbitrator in 1-3 cases in domestic and international arbitrations
Examples of cases
TIAC arbitration case related to the claim of an Uzbek buyer to an Italian seller as regards the breach of contract of international sales of goods and failure to pay under the contract; CISG and Uzbek law; sole arbitrator appointed by TIAC. ICAC arbitration related to the claim by a Lithuanian investor to a Cyprus company for restitution and damages due to the breach of the share purchase agreement and fraudulent misrepresentation; Lithuanian law; co-arbitrator appointed by one of the parties; ICAC arbitration related to the claim of a Russian company to a UK company for the breach of international carriage agreement of aluminum and compensation of damages; Russian law; co-arbitrator appointed by one of the parties.
Experience as the tribunal's secretary / assistant to the president of the tribunal
Cases on international sales of goods, investment contracts, transportation, sales of shares; rapporteur at the International Commercial Arbitration Court at the Russian Federation Chamber of Commerce and Industry (1998-2000)
Experience as counsel
Acted as counsel more than 15 years in domestic and international arbitrations
ICAC Rules
LCIA Rules
ICC Rules
SCC Rules
SIAC Rules
HKIAC Rules
VIAC Rules
DIS Rules
UNCITRAL Rules
ICSID Convention
Examples of cases
Acting for an international syndicate of banks against a major Russian corporate group in a series of finance disputes worth US$240m in international arbitration (LCIA Rules) and in the parallel Russian litigation. Acting for an investor in an UNCITRAL investment arbitration against the Asian state under its investment law rules in connection with the expropriation of their investment in the telecom sector. Acting for a Japanese tire manufacturer in 4 ICAC arbitrations as well as satellite Russian proceedings with a Turkish contractor in respect of a number of disputes worth tens of millions of US$ regarding construction of a factory in one of the Russian regions. Acting for the subsidiary of an international energy group in connection with a USD 22,4 billion UNCITRAL claim brought by two provinces of a CIS state based on the alleged breach of the arrangements for the development of oil fields. Acting for a Central Asian gas company transporting natural gas, in the ICC arbitration against an international telecommunications company. Acting for a major Russian bank in connection with 14 parallel LCIA arbitrations against a debtor company arising out of an over USD 1bn syndicated loan facility, involving applications for injunctive relief in multiple jurisdictions.
quantum (damages) experts
construction experts
applicable law experts, IT experts, forensics
General arbitration experience
London
Paris
Moscow
Stockholm
Singapur
Geneva
Russian law
Belarussian law
English law
Ukrainian law
French law
German law
Swedish law
Swiss law
Lithuanian law; Laws of the CIS countries
commercial arbitration
investment arbitration
sports arbitration
сonstruction arbitrations
maritime arbitrations
Has been involved in expert determination as counsel
Has been involved in mediation as counsel
ICC Advanced Arbitration Academy
The Russian Arbitration Center at the Russian Institute of Modern Arbitration; Arbitration Center at the Russian Union of Industrialists and Entrepreneurs; Russian Arbitration Association; Singapore International Arbitration Court (SIAC); Harbin Arbitration Commission, China; Tashkent International Arbitration Court at the Chamber of Commerce and Industry of the Republic of Uzbekistan (TIAC) International Arbitration Court of the Republic of Kazakhstan (KIA) Japan Arbitration Association
Education, qualifications, awards
Moscow State University, PhD in Law, 2002
Leiden University (Lugd.Batav.), LL.M in International Business, Honors: cum laude, 2000
Moscow State University, Specialist (J.D. equivalent), Honors: cum laude, 1998
- Recommended lawyer in dispute resolution and arbitration - Best Lawyers ® Russia , 2013-2021 - Annually since 2002 recognized as a highly reputable practitioner in commercial litigation, international arbitration, investigations, malfeasance and fraud - by Chambers Global, Chambers Europe, Legal 500 - Recognized as a leading lawyer in international dispute resolution (has "exceptional ability to handle complex international disputes" and he is "an outstanding lawyer with an ideal solution to any problem"), Legal 500 EMEA, Russia - Included in "Arbitration Powerlist 2020: CIS and Caucasus", Legal 500, 2020. - Included in the "Hall of Fame", Legal 500, 2018 - Winner of the 40 Best Lawyers Under 40 Award in Investigation: Alexei Dudko was included by the Global Investigations Review (GIR) 2014 in the list of 40 leading lawyers worldwide under the age of 40
2013-2015; 2019 - to date: Co-Chair (with G. Born), Committee on the Appointment of Arbitrators, Russian Arbitration Association 1999-2000: member of the working group for the preparation of the Conciliation Regulations of the ICAC, the first Conciliation Regulations in Russia 2020 - member of the Scientific Advisory Council at the Ministry of Justice of the Russian Federation
Preferences as an arbitrator
IBA Guidelines on Conflict of Interest in International Arbitration
Ready to waive travel costs
printed submissions and factual exhibits
it is up to parties to decide
Maximum deference to the right to present the party's case
Rigorous control of the process by the tribunal
Only if it is a legal issue the arbitrators may wish to have submissions on
It is only for parties to decide and arbitrators should focus on resolution of the dispute