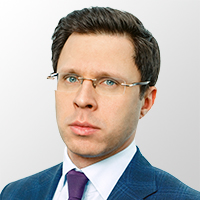 Raschevsky Evgeny Sergeevich
Egorov, Puginsky, Afanasiev and Partners (EPAM)
Tel: +7 495 935 80 10
Address: 21 bld., 1-st Tverskaya-Yamskaya street, Moscow, 125047 , Russia
General information
Career
Egorov, Puginsky, Afanasiev and Partners (EPAM)
, Moscow
Advocate, Partner, Co-Head of International Arbitration and Litigation practice
Yukov Khrenov and Partners
, Moscow
Advocate's assistant, Advocate
Experience as arbitrator
Served as arbitrator in 1-3 cases in domestic arbitrations
RAC Rules
Rules of the Arbitration Center at RSPP
Examples of cases
Sole arbitrator in two cases and appointed co-arbitrator in one case.
General arbitration experience
Has been involved in mediation as counsel
CIArb – MCIArb or FCIArb or Chartered Arbitrator
ICC Advanced Arbitration Academy
Solicitor of the Senior Courts of England and Wales
Russian Arbitration Center, RUIE (RSPP), · International Arbitration Court of Qingdao Arbitration Commission in Demonstration Zone of SCO - Vice-president, KCAB INTERNATIONAL
Education, qualifications, awards
Russian State University of Trade and Economics, PhD in Civil Law, 2004, Thesis: Monetary obligation in External Management Procedure
Russian School of Private Law, Master of Civil law, 2001
Volgograd State University, Higher education - Lawyer, Honors: Red diploma - Honours degree, 1999
Chambers Global, Chambers Europe, The Legal 500 and listed as a prominent Russian arbitration and mediation expert by GAR 100 and Best Lawyers; Kommersant.
Lecturer at Moscow State University ( "Bankruptcy and international arbitration" course)
Preferences as an arbitrator
IBA Guidelines on Conflicts of Interest in International Arbitration
Fixed fee for the case. Additional costs (travel, accommodation) are reimbursed as incurred.
Bockstiegel method (allocating an equal amount of time to each party with their freedom to use it as they wish between opening, examinations and closing)
Maximum deference to the right to present the party's case
Rigorous control of the process by the tribunal
If it is a legal issue or an important factual issue
It is only for parties to decide and arbitrators should focus on resolution of the dispute