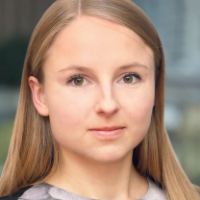 Vorotilova Taisiya Vladimirovna
Baker McKenzie
Tel: +7 965 046 11 21
General information
Russian
- sufficiently fluent in order to handle proceedings and render an award
English
- sufficiently fluent in order to handle proceedings and render an award
Career
Baker McKenzie
, Moscow and St. Petersburg
Associate
Experience as the tribunal's secretary / assistant to the president of the tribunal
Examples cannot be provided due to confidentiality restrictions.
Experience as counsel
Acted as counsel for 5-10 years in domestic and international arbitrations
ICAC Rules
LCIA Rules
ICC Rules
SCC Rules
Examples of cases
Represented a major energy machine-building company in a complex cross-border dispute involving an SCC arbitration in Stockholm and litigation proceedings in several jurisdictions in Europe arising out of infringement of the client's IP rights. Represented a major energy machine-building company in arbitration proceedings under the Arbitration Rules of the International Court of Arbitration of the International Chamber of Commerce. Represented a major construction company in ICC arbitration proceedings initiated under the provisions of the FIDIC construction contracts against its employer with an amount in dispute in excess of USD 250 million. Represented a major agrochemical company in ICC arbitration proceedings initiated against it under a distribution agreement. Represented a client in several parallel proceedings initiated by the parties in Russia and Kazakhstan. The case involved international arbitration administered by International Commercial Arbitration Court at the Chamber of Commerce and Industry of the Russian Federation (ICAC) and proceedings in state courts both in Russia and in Kazakhstan. Represented a large construction company in a number of related proceedings arising out of a subcontract agreement in ICC arbitration and parallel proceedings in Russian courts, including in connection with requests for anti-suit injunctions and claw-back claims in bankruptcy.
quantum (damages) experts
construction experts
General arbitration experience
Moscow
London
Paris
Stockholm
maritime arbitrations
сonstruction arbitrations
commercial arbitration
сonstruction arbitrations
commercial arbitration
Has been involved in dispute resolution as counsel
Has been involved in expert determination as counsel
St. Petersburg State University, LL.M. in procedural law
Education, qualifications, awards
St. Petersburg State University, Bachelor of laws, 2013
Legal 500 DISPUTE RESOLUTION: ARBITRATION AND MEDIATION: Rising star (2020)
Preferences as an arbitrator
Maximum deference to the right to present the party's case
Rigorous control of the process by the tribunal
If it is a legal issue or an important factual issue
It is only for parties to decide and arbitrators should focus on resolution of the dispute