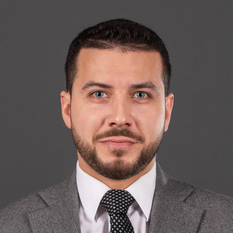 Kropotov Leonid Grigorievich
DLA Piper
General information
English
- sufficiently fluent in order to handle proceedings and render an award
Career
DLA Piper
, St Petersburg, Moscow
Legal Director
Experience as arbitrator
Served as arbitrator in 1-3 cases in domestic arbitrations
Examples of cases
A domestic dispute under RAC rules. Sole arbitrator appointed by RAC. Claim on the unjust enrichment. Russian law. The value of dispute was below 1 million Russian Rubles. Without the oral hearings, the case was closed by a decision due to the withdrawal of the claim and the settlement agreement after the parties have filed their memorials.
Experience as counsel
Acted as counsel for 11-15 years in domestic and international arbitrations
ICAC Rules
UNCITRAL Rules
ICSID Convention
Arbitration Court at the Chamber of Commerce of St. Petersburg
Examples of cases
Representing the Government of St Petersburg in a USD 0.5 billion dispute with an American investor in relation to a joint venture in Russia set up to build an airport in an ad hoc arbitration (https://globalarbitrationreview.com/st-petersburg-win-upheld-in-stockholm). UNCITRAL Rules, Stockholm, Russian and English law. We were successful in the Svea Court of Appeal - the challenge of the award was dimissed. Representing a UK supplier of production equipment in an international arbitration in ICAC at the RF CCI against Russian customer for repayment of the purchase price. ICAC Rules, Moscow, Russian law. Amount in dispute - circa 10 million USD. Acting for a Eastern European country in a BIT arbitration against a Russian investor. PCA, UNCITRAL Rules, Paris, over 1 billion USD.
quantum (damages) experts
experts on English and Russian law
General arbitration experience
investment arbitration
commercial arbitration
M&A arbitration
Education, qualifications, awards
St Petersburg State University, PhD in law, 2011
St Petersburg State University, Master, 2008
St Petersburg State University, Bachelor, 2006
Recognized by Best Lawyers 2020 as one of the top lawyers in Russia in six categories - Arbitration and Mediation; International Arbitration; Litigation; Corporate Law; Investment; Mergers and Acquisitions Law. According to Legal 500 2020, ranked as a 'Key Lawyer' in the following categories – Commercial, Corporate and M&A: St Petersburg and elsewhere; Dispute Resolution: Arbitration and Mediation; Energy and Natural Resources; Dispute Resolution: Litigation.
Visiting lecturer at St Petersburg State University teaching a post-graduate course and a master programme on the resolution of international disputes, investments and M&A.
Preferences as an arbitrator
IBA Guidelines on Conflict of Interest in International Arbitration
willing to waive travel and other costs
depends on the merits of the case, its complexity, amount in dispute, volume and type of evidence
depends on the merits of the case, its complexity, amount in dispute, volume and type of evidence
Maximum deference to the right to present the party's case
Rigorous control of the process by the tribunal
If it is a legal issue or an important factual issue
Arbitrators should encourage parties to settle the dispute including by making inquiries and/or steps such as encouraging participation of in-house counsel or management in hearings
Personal preferences
And Quiet Flows the Don, M.A. Sholokhov
Other information
1. Co-author: On impartiality and independence of arbitrators in international commercial arbitration / In-house lawyer (No. 3, 2011); 2. Co-author: On transfer of rights arising from shares upon transfer of rights to them In-house lawyer (No. 2, 2011); 3. Author of a essay entitled "Commercial Investments in Real Estate: Legal Regulation" (Moscow, Infotropic Media, 2012); 4. Co-author of Commentary on International Commercial Arbitration (Textbook. St Petersburg. Statute Publishing House. 2018); 5. Co-author: Arbitration Changes in Russia: Revolution or Evolution? / Kluwer Law Online - Journal of International Arbitration (2018); 6. Enforcement of Arbitral Award - Limits of Consideration by the State Court / Moscow Region Court Gazette (2020); 7. Co-author of the Report for Russia of the IBA Toolkit on Insolvency and Arbitration / IBA Arbitration Committee (2021). Other publications can be found at the Linkedin page: https://www.linkedin.com/in/leonid-kropotov-phd-law-4881672b/