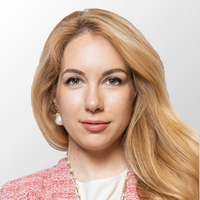 Tsvetkova Olga
Egorov Puginsky Afanasiev & Partners (EPAM)
General information
Career
Egorov Puginsky Afanasiev & Partners (EPAM)
, Moscow
Counsel, Co-head of International Arbitration
Ministry of Justice of Russia
, Moscow
Deputy Head of the Department for International Law and Cooperation
Egorov Puginsky Afanasiev & Partners
, Moscow
Counsel
Internship
Experience as arbitrator
Served as arbitrator in 1-3 cases in domestic arbitrations
Examples of cases
Arbitrator in expedited proceedings at a claim for a debt recovery under a supply agreement. Arbitrator in a case arising out of a construction and installation contract.
Experience as counsel
Acted as counsel for 11-15 years in domestic and international arbitrations
ICAC Rules
LCIA Rules
ICC Rules
SCC Rules
UNCITRAL Rules
Swiss Rules of International Arbitration
Examples of cases
Representing Russia in a number of investment disputes in arbitrations under the UNCITRAL Rules. Representing a company in LCIA arbitration related to a post-acquisition dispute between CIS businessmen with respect to the stake in a metallurgical asset. Representing a major cement producer in ICC arbitration arising out of a share purchase agreement regarding acquisition of assets in Turkey. Representing a client in arbitration under the UNCITRAL Rules in a tax dispute arising out of a major Russian oil and gas project. Representing a client in arbitration proceedings under the ICC, SCC and Swiss Rules of International Arbitration regarding disputes arising out of raw materials' supply contracts. Representing a BVI consulting company in LCIA arbitration against Russian individuals regarding a dispute arising out of an engagement agreement.
quantum (damages) experts
foreign law experts, experts in oil & gas industry
General arbitration experience
Moscow
London
Paris
Stockholm
Hague
Geneva and/or Zurich
Instanbul
Russian law
English law
Ukrainian law
German law
Swiss law
Turkish law
сonstruction arbitrations
commercial arbitration
сonstruction arbitrations
investment arbitration
commercial arbitration
Master in International Dispute Settlement (MIDS), Geneva, 2014
Education, qualifications, awards
Moscow State University, Specialist, 2008
recommended by Who is Who Legal and Best Lawyers
- Member of the International Law Board at the Russian Ministry of Justice - Member of the ICC Institute of World Business Law - Former co-head of RAA40 and Young IMA
Preferences as an arbitrator
IBA Guidelines on Conflicts of Interest in International Arbitration
it is up to parties to decide
Maximum deference to the right to present the party's case
Rigorous control of the process by the tribunal
If it is a legal issue or an important factual issue
Arbitrators should encourage parties to settle the dispute including by making inquiries and/or steps such as encouraging participation of in-house counsel or management in hearings
Personal preferences
Lermontov "A Hero of Our Time"